Spring Cleaning Tips for your Elderly Loved Ones
Even though we are almost into the summer season, it's not too late to help your loved one get a bit of spring cleaning done before summer hits. In article written by Joan Lunden about caring for aging parents, Joan recommends these tips to help tackle the spring cleaning process.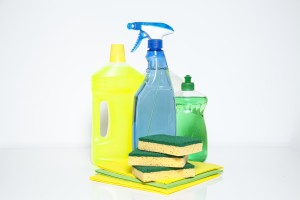 Make a list and write down everything that needs to be done. Some ideas she suggests are washing windows, cleaning out the fridge, sorting winter and summer clothes, weeding the garden beds. Have a conversation with your loved one about items on the list should be done first!
Reorganize. We agree with Joan that organization is key! As with every stage in life, it's important to take a step back and look at how things are placed around the house from both a safety and usability standpoint. Things to keep in mind include: making sure important paperwork, kitchen utensils and food are in convenient places, and bedrooms and bathrooms are set up for easy access.
Keeping it clean! One of the first signs that seniors are not able to care for themselves on their own is when their living space or their appearance seems to be poorly maintained. It's important to make sure your loved one is bathing properly, wearing clean clothes and generally maintaining their overall health. If you find signs of neglect then please take moment to contact us. We can conduct an assessment to see if your loved one could use some extra care or professional care giving.
Clear the clutter! Clutter can create unsafe, unsanitary or down right hazardous living conditions for seniors. For many seniors however, it can be difficult to convince to take the plunge to declutter. To ease the pain of decluttering, create a special space for important collections or grandchildren's school portraits or artwork.
Safety. Be sure to check all emergency devices like fire and carbon monoxide detectors. While you're at it, be sure to check the telephones and preprogrammed numbers in case your senior needs One of the best aspects of spring cleaning with your aging loved one is that it allows you stay in touch with your senior family member.  Finally, check all medications to ensure they are being taken properly and that there are no expired pills.
Remember, spring cleaning can not only be fun but it also helps you stay in touch and be involved in your loved one's life. So, don't let your senior do it alone and happy cleaning!
To read entire article, click here.